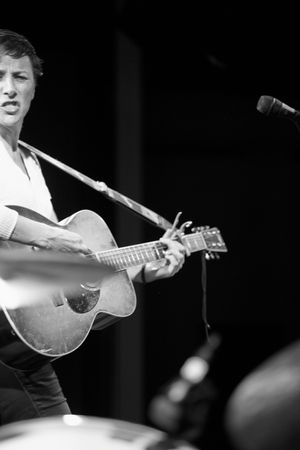 Melissa Ferrick 
    On August 15th, 2023, Ferrick released Black Dress, their first single in eight years, via the venerable Kill Rock Stars Records. This release coincides with the 30th anniversary of Ferrick's critically acclaimed major label debut, Massive Blur. Ferrick will be celebrating the new release and her 30th Anniversary by touring a retrospective show titled, Throughlines. In other big news, Melissa has started a management company, Drive Music Agency (D.M.A.), where she represents Brennan Wedl and Joh Chase. 
     Melissa Ferrick is regarded in the industry and by their peers as one of the most prolific, generous, and hardworking people in the business. After opening for Morrissey in the U.S. and UK, Ferrick signed with Atlantic Records at the age of 21 and released her debut and sophomore albums with them. Between 1996 and 1999, Melissa released three albums with the Colorado-based indie label W.A.R. Records. In 2000, Melissa launched the nationally distributed independent record label Right On Records. Ferrick put out two critically acclaimed albums with NY-based label MPress Records between 2011 and 2013. She's released seventeen albums over the last twenty-five years and has won numerous awards for songwriting, production, and performance. Melissa has shared the stage with countless acts, some of which include Morrissey, Joan Armatrading, Weezer, Tegan and Sara, Mark Cohen, Paul Westerberg, Bob Dylan, John Hiatt, Ani DiFranco, k.d. Lang, Suzanne Vega, Shawn Colvin, and many others. 
     Besides her work in the music industry, Ferrick is a Professor of the Practice at Northeastern University in the Music Department. Melissa teaches courses in the music business, songwriting, creative entrepreneurship, demo recording and production, live performance, and the psychology of creativity. From 2013 – to 2019, Melissa was an Associate Professor of Songwriting at Berklee College of Music. She holds an Ed.M from Harvard University.   
*Melissa is the named plaintiff of the class action lawsuit Ferrick v. Spotify for willful copyright infringement.